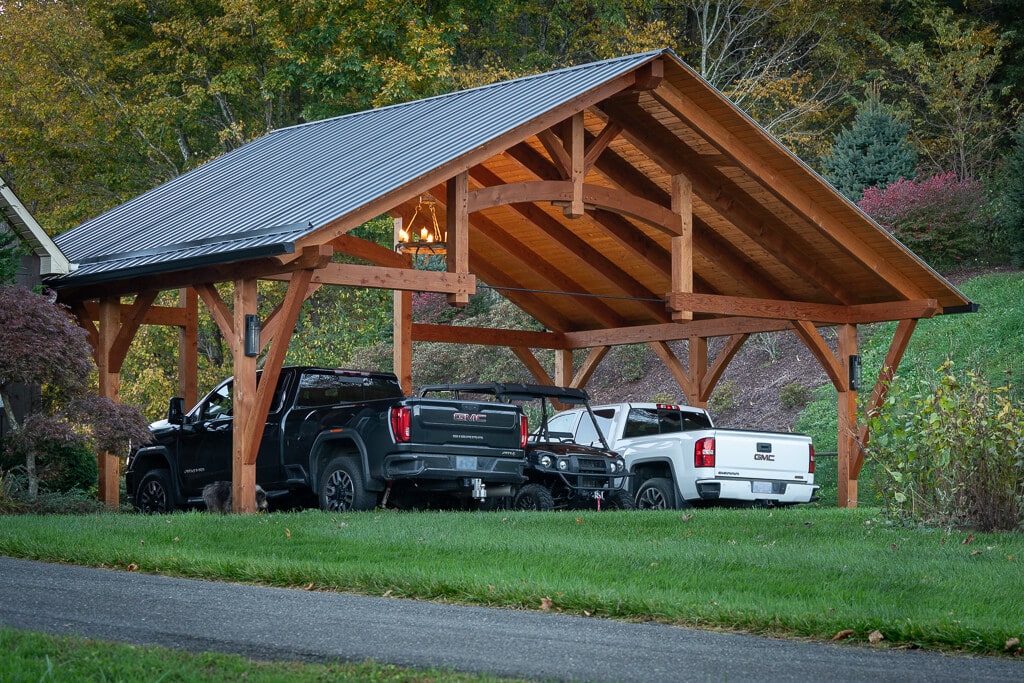 Timber Frame Carports
As of March 2023, this timber frame kit has been discontinued. We originally introduced this and other timber frame kits in March 2020, motivated by the idea that if one of our crew becomes ill, or if we have to close the shop temporarily, our crew can load their pickups with wood and tools and make the kits at home. We just wanted to keep everyone working.
Three years on, our crew is busier than ever and we've made the decision to concentrate on what we do best: custom timber framing projects. If a custom timber frame home, barn, great room, entryway, or other structure sounds like something you'd like to explore, we encourage you to view our work and see some of the projects we're particularly proud of.
What Can You Do With a Timber Frame Carport Kit?
We designed our timber frame parking pavilion with vehicles in mind. After all, we wanted to create a stylish shelter for everyone to park safely—from pickup trucks to ATVs. But vehicle storage certainly isn't all this structure can do.
Are you planning an outdoor gathering or a socially distanced get-together? Your timber frame carport can easily become the designated party area—a sort of reimagined party barn with plenty of fresh air. Add comfortable seating, some lighting, and a grilling area, and your car party barn can provide a shaded barbecue station too.
How about that project that won't quite fit in your workshop or garage? Since a wooden carport doesn't have pesky restrictions like walls, it's the ideal place to tackle oversized or overly messy projects while still enjoying protection from the elements.
Why We Think You'll Like Our Carport Kit
There's a lot to love about this wood carport kit:
It's incredibly versatile. You can use it primarily as a vehicle parking area and transform it into an entertainment pavilion for an afternoon, a weekend, or longer. Or perhaps you have an upcoming family wedding? The last time we checked, the average couple spends $5,000 to $15,000 to rent a wedding venue…and a timber frame is really fun to decorate. Proof of concept? Our owners, Eric & Gesche Morley, were married in a timber framed garage that Gesche transformed into a barn wedding venue…
Wood carports aren't usually known for their beauty. But we think this one is a little different from the norm. Its timber frame design can fit seamlessly alongside your home and enhance your property's aesthetic (and value).
It's a carport kit, which means we pre-cut every single component before delivering to your job site. We rate the difficulty level three mallets (i.e. it's on the challenging end of the spectrum)—so you'll probably want to bring in a contractor.