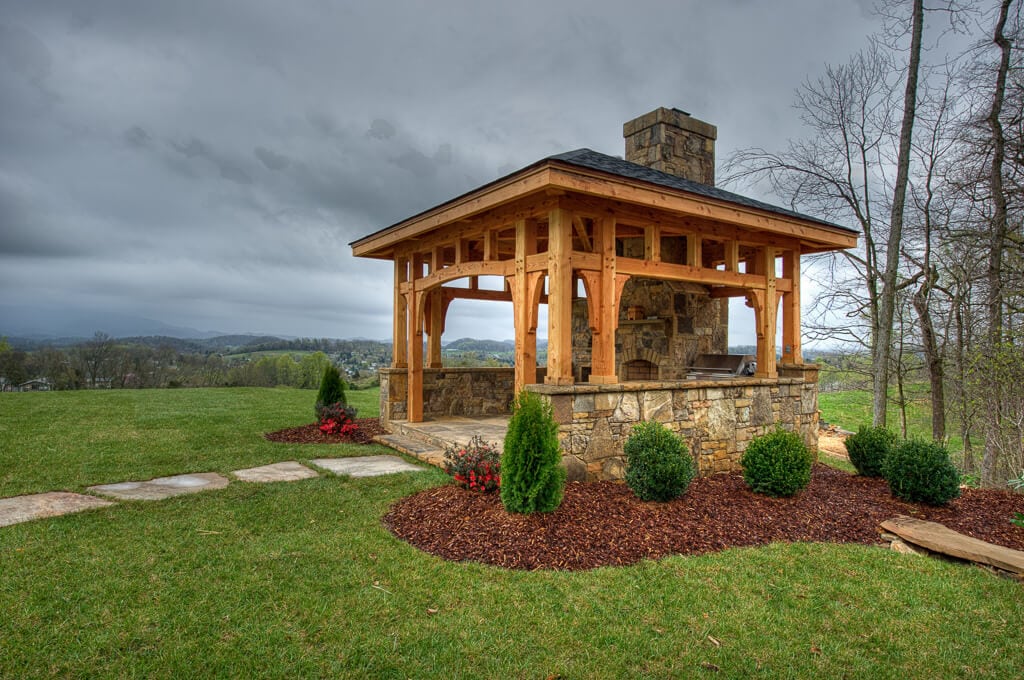 Covered Outdoor Kitchen Ideas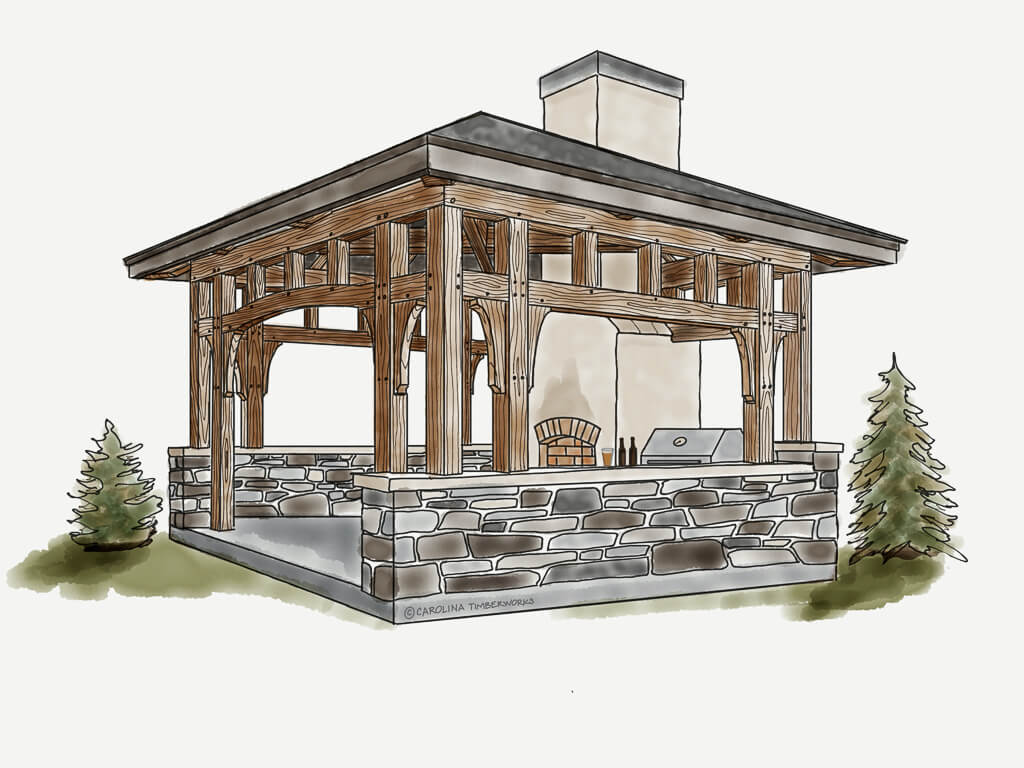 Eisenhower Steak
I first saw this recipe in the New York Times and it quickly became a crowd-pleaser. It's the perfect dish to launch your new timber frame covered outdoor kitchen! You cook the steak directly on the glowing coals without the grate! Be brave!
Steve's Recipe for Eisenhower Steak

Meat:

4″ thick ribeye steak, bone in adds flavor

Rub:

1/4 cup finely ground dark-roast coffee (I grind my own espresso)
1/4 cup ancho chile powder
1/4 cup dark brown sugar, tightly packed
2 tablespoons smoked paprika
2 tablespoons kosher salt
1 tablespoon ground cumin

In a small bowl, mix all the ingredients thoroughly, massaging the mixture with your fingers to break down the dark brown sugar into fine crystals.

Liberally sprinkle a thin layer of the rub onto the steak, then pat it in with your fingers so it adheres.

Instructions:

Prepare the grill with a

full charge

of cowboy style lump charcoal. You want a full kettle and you want it glowing red. I've occasionally used a bellows to get my charcoal super hot. Don't wimp out!
Level the coals in the kettle. Blow the ash off the coals, a light coating will probably remain but no worries–it actually improves the taste.
Nestle the steak on the hot coals. Cook 4 to 5 minutes per side depending on desired level of doneness. I like mine charred on the outside and rare on the inside. I cook to an internal temp of no more than 115°C / 240°F degrees then let it rest. For those who want medium rare you can either put it back on the coals or place it on a rack.

The original NY Times article is excellent, as are the comments if you're still a bit shy.

I get requests every year to do an instant replay on this one.
As of March 2023, this timber frame kit has been discontinued. We originally introduced this and other timber frame kits in March 2020, motivated by the idea that if one of our crew becomes ill, or if we have to close the shop temporarily, our crew can load their pickups with wood and tools and make the kits at home. We just wanted to keep everyone working.
Three years on, our crew is busier than ever and we've made the decision to concentrate on what we do best: custom timber framing projects. If a custom timber frame home, barn, great room, entryway, or other structure sounds like something you'd like to explore, we encourage you to view our work and see some of the projects we're particularly proud of.
Timber Frame Outdoor Kitchen
Glory to the Grill!
If you're considering a timber frame covered outdoor kitchen there are two general approaches. One is to keep it super simple: a grill or an open fire pit, maybe a smoker with some camp chairs. Our Patio Shade Structure could work nicely for this concept. At the other end of the spectrum is a completely covered outdoor kitchen with a sink, refrigerator, stove, and a full range of grilling options. I've wanted to build one of these for years, which is part of the motivation for the Covered Outdoor Kitchen kit, the one I call the "G2G: Glory to the Grill!" I secretly figured that if we designed and engineered it, I'd finally end up building it!
What's the big attraction of an outdoor kitchen? Well, part of it is the caveman romance of cooking over a wood fire, and then there's sheer practicality of minimal cleanup when grilling direct to flame. And of course, some dishes can only be prepared in the open air, like barbecued Thanksgiving turkey, and my favorite, the "Eisenhower Steak," a 4″ thick boneless ribeye, dusted with a coffee, ancho chile, salt, pepper, and brown sugar mixture, then grilled directly on a bed of hot coals at about 1,000 degrees. No way you can do that inside. My wife loves the G2G concept because it's a guy thing – the boys can head outdoors with their martinis, loud voices, and bad jokes while she and the ladies get on with their part of the meal in peace.
The timber frame covered outdoor kitchen you see here is one we built for clients on their spectacular home site overlooking the mountains in Tennessee. It's a home intended to be in the family for generations, so the parents asked the children – all grown with families of their own – if they wanted a swimming pool. "No" they answered upon consideration; they wanted a timber frame covered outdoor kitchen – the ultimate family gathering place. This one has it all, even a full fireplace and a wood-fired pizza oven. That is some glorious grilling!