West Jefferson, NC: The Coolest Corner
Is West Jefferson (Ashe County) one of the best places to live, raise a family, and work in Western North Carolina?
Carolina Timberworks thinks so.
West Jefferson, NC Ashe County by the Numbers
| | |
| --- | --- |
| Elevation (5 peaks over 5,000′) | 3,178′ |
| Population (people, not cows) | 27,203 |
| Square miles | 426.14 |
| People per square mile (Manhattan is 69,467) | 64 |
| Acres (Bill & Melina Gates own only 242,000) | 272,778 |
| Acres per person | 10 |
| Number of farms (no farmers, no farmers' market) | 1,125 |
| Christmas tree production (by county, in the U.S.) | No. 1 |
| Median home value (San Francisco is $1.38 million) | $153,200 |
| Sales tax rate | 7% |
| Property tax rate (per $100 USD) | $0.443 |
| Median rent (half pay more, half pay less) | $634 |
| Median household income (half earn more, half earn less) | $40,962 |
| Households with broadband internet | 70.4% |
| Average travel time to work | 25 min. |
| Closest public airport (GEV) | 11 min. |
| Closest major airport (CLT) | 2 hr. 7 min. |
| Distance to Blue Ridge Parkway | 17 min. |
Where is Ashe County?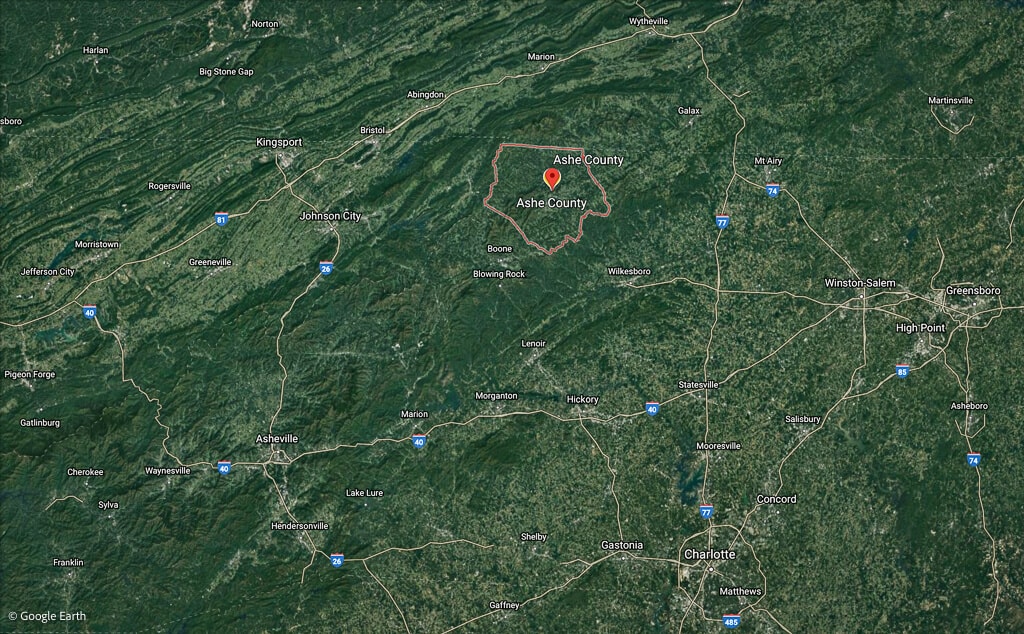 Completed in early 2021 at an estimated cost of $154.7 million, the widening of U.S. 221 from U.S. 421 in Deep Gap to West Jefferson to a four-lane median-divided highway is game-changing. Boone to West Jefferson is approximately 30 minutes away, NC, 2 hours from Charlotte, NC, and 2-1/2 hrs. from Asheville, NC.
Best Realtor
Theresa DeMarco. Hands down. And she's a Carolina Timberworks alumni.
What to Do in West Jefferson, NC and Ashe County
Ashe County Airport
You may be surprised to learn that private jets regularly land and take off only 3 miles from downtown West Jefferson. Ashe County Airport (KGEV, GEV) is a county-owned public airport with a 5,002′ long runway.
Communities in Ashe County
West Jefferson is listed on the National Register of Historic Places and is the largest town in Ashe County, while Jefferson is the county seat. Lansing rounds out the list of towns (our favorite pizza comes from Pie on the Mountain in Lansing). Some of the other places you might like to explore are Todd, Fleetwood, Creston, Helton, and Glendale Springs.
Neighboring Communities
Trouble choosing where to explore next from your home base of West Jefferson? Here's one great day trip: From West Jefferson, take 221 S to 421 N to Boone, a busy college town about 30 minutes from West Jefferson, home to Appalachian State University, and a vibrant downtown. From Boone, take 105 S for 5 miles, then turn right on Broadstone Road. In 3 miles you'll travel back in time 100 years and arrive in Valle Crucis, home to the original Mast General Store. Now for an achingly beautiful (and twisty) road take 194 S to Banner Elk. Take 184 S to 105 S to Linville, then 221 N to Grandfather Mountain. From there, get on the Blue Ridge Parkway and head north for 12 miles to the village of Blowing Rock. Finally, after you're tired of shopping, take 321 N to Boone, then 421 S to 221 N back to West Jefferson.
Best Local Weather Forecast
Contact us to schedule a visit.
Carolina Timberworks is a timber frame company in West Jefferson, and we're proud to call Ashe County home. If you're building or remodeling in the area and are contemplating post and beam or timber frame construction, drop us a line and we'll get back to you as soon as we can!