Here's the thing about timber frame building: it might be the perfect construction method. After all, the origins of timber framing date back nearly 2,000 years—and the basic elements haven't changed much over nearly two millennia. Today, timber framing still features wood-to-wood joinery, much like centuries-old homes and temples in locations as varied as England and Japan.
How have timber frame buildings withstood the test of time? Let's look at the basics of this building method and the types of structures that fit best with timber framing.
What is a Timber Frame Building?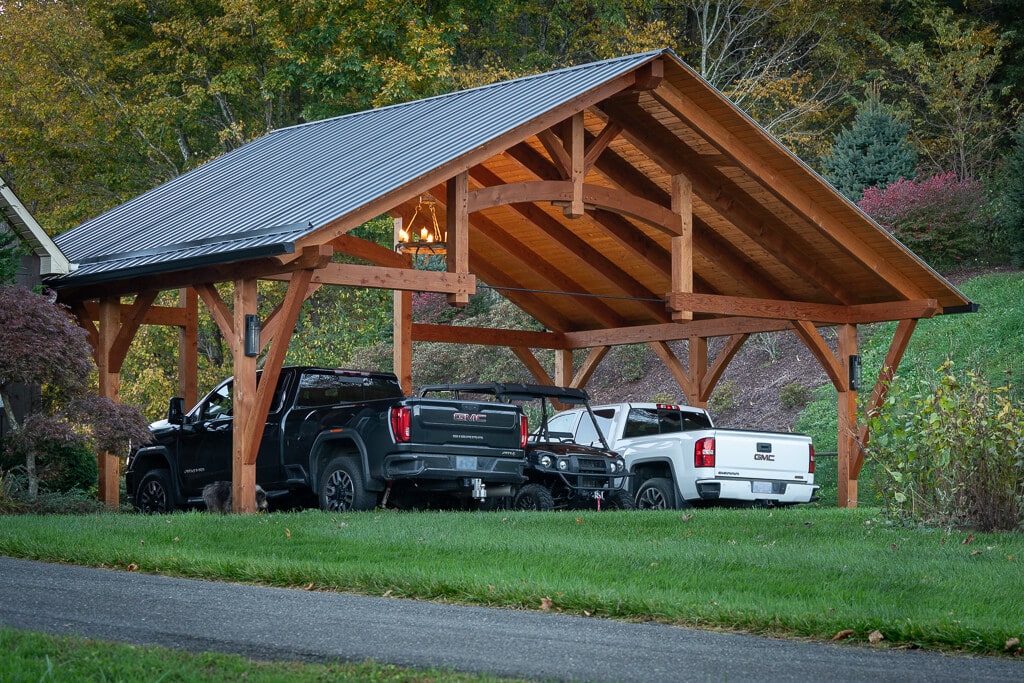 From classic barns to custom homes to rustic pavilions, timber frame buildings come in all shapes and sizes. Here are a few of our favorites:
For centuries, timber frame barns have provided shelter and created storage space. They're still popular today, whether you need them for a practical purpose like equipment storage or you'd rather use them for an entertainment space like a party barn.
Timber frame pavilions are great for making outdoor space more usable. Whether they stand tall or span a single story, they can provide much-needed shade or create a much-loved space for family and friends to gather.
Another multipurpose structure, a timber frame carport can protect vehicles and equipment from the elements. It can also serve as a space for outdoor entertainment, similar to an open pavilion or gazebo.
Timber Frame Building: The Basics
What are the defining elements of a timber frame structure? Most buildings include these key components:
Timber Frame Trusses
With their distinctive triangular shapes, timber frame trusses form the framework and provide essential support for this type of structure. They can be quite large, with some spanning up to 60 feet. They also come in a wide range of styles, from classic king post trusses to more complex hammer beam timber frame bents.
Timber Frame Joints
Like trusses, timber frame joints also vary widely in terms of appearance and functionality. From traditional mortise and tenon joints to scarf joints to knee brace joints, all connect heavy timber with wood-to-wood joinery and without the need for metal plates.
Structural Insulated Panels (SIPs)
SIPs feature two wooden panels with a layer of insulating foam sandwiched in between. They enclose a timber frame building tightly, providing outstanding protection from the elements and other pests. They also tend to be more energy-efficient than conventional alternatives, making timber framing more sustainable.
Post and Beam vs. Timber Framing
Post and beam buildings are similar to timber frame structures in that both use heavy timber. However, there are key differences between the two. Post and beam construction often uses simpler joinery and typically relies on metal plates and/or hardware for structural purposes.
Why Timber Frame Buildings Withstand the Test of Time
With their heavy timber and wood-to-wood joinery, timber frame buildings are designed to last. The many historic timber structures that are still standing today are testaments to the longevity of this building method.
When you build a timber frame home or cabin today, you can take extra steps to ensure that it lasts as long as possible. The most important step? A roof in good condition. Houses that are well-maintained can last indefinitely. Finally, keeping the indoor humidity level of around 50% is ideal for preventing timber from drying out too quickly and helping it retain its shape without excessive twisting or cracking.
At Carolina Timberworks, we believe in the beauty and longevity of timber framing. Take a look at our timber frame portfolio to see some of the buildings we've raised over the years and learn more about why this method can last for generations to come.