Gazebo Kits
"In 2010 we bought a house with a beautiful view of the mountains, and decided to add a gazebo and expand the existing porch. Little did we know it would become our 'family room' for all occasions. The fireplace is burning most nights and sometimes even during the day. It is a place to enjoy family and friends, contemplate, meditate, or have a crowd over for dinner. The only change we wish we had made? We should have made it bigger!"
Nancy & Stan
Homeowners
Timber Frame Gazebo Kit
integrated with the outdoors
The word gazebo is thought to have been introduced to the English language by William Halfpenny, an English architect and builder, in 1755. (Ref: Rural Architecture in the Chinese Taste, 1775). The term is a play on the verb "to gaze," and while ours is a bit simpler than Halfpenny's pictured here, it does serve the same lovely purpose: providing shelter for being outside and viewing the landscape in any weather.
We built this particular gazebo kit for a client who wanted a full outdoor living/dining room with a fireplace, lighting, and a flat screen TV for movies and football games. They use it all the time, and it's no wonder given the harmonious feeling the space imparts.
American home design places a premium on raw square footage; it seems to be axiomatic here that bigger is better. But successful design is as much about the space between the rooms as it is about the rooms themselves. Architects and designers call these "transition spaces." One of the reasons the Gazebo was so successful is that it (like all of our kits) is detached from the main house, and that requires a deliberate transition to the space. You don't just wander in there, you go there intentionally, and that changes the way you enjoy the space.
And then there's the strong appeal and tactile experience of just "being in" the structure—the aroma of the Western red cedar timbers, the whiff of smoke from the crackling fire. It all takes you back to your grounding spot as a human being.
This timber frame gazebo kit, like all our kits, is a departure point. It could be used as an alternative design to our Outdoor Kitchen, a screened porch, a covered grill area, or a tiki bar for the adults to hang out in while the kids are in the house playing video games! If this were my gazebo, I'd be out there all the time!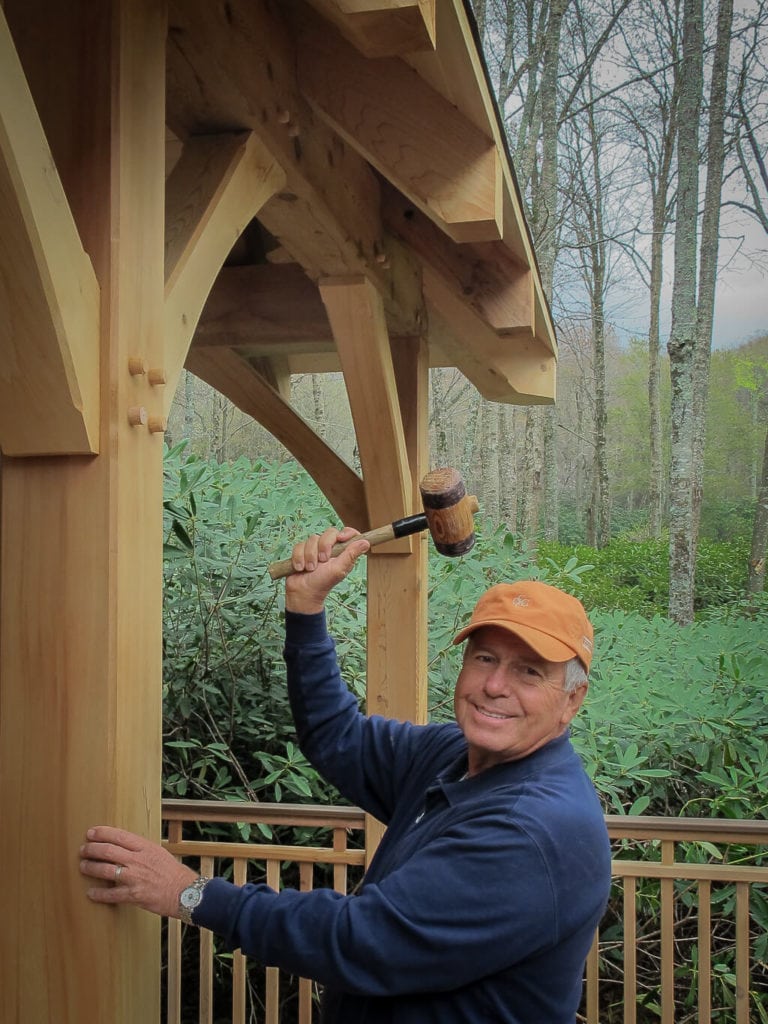 GAZEBO KITS DETAILS

16′ 7″ x 17′ 1-1/2″
18′ 8″ tall
Douglas Fir
or
Western Red Cedar
From $ 25,850